A legend of the club is leaving IBB Polonia London: Patrik Selep
He arrived in London in 2004, and a season later joined the current Champions of England, and to this day remained loyal fulfilling a number of roles. Recently the Slovak made the decision to return to his homeland which means that in 2021/2022 will no longer work as one of the coaches of the London club. Patrik Selep is very nostalgic about his time in the top club in the UK. He talks about his time in West London and for the future.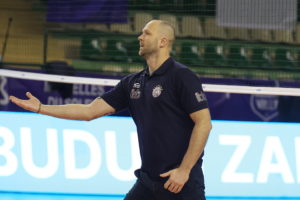 For the first seven years he was fighting for every point on court. He then had a major knee problem, had surgery and was forced to stop playing. In the role of assistant coach and also head coach did everything within his powers to share his experience and knowledge. He was a part of many huge milestones for the club and British volleyball and also saw some significant defeats. He was a witness to the beginnings of the transformation of IBB Polonia London and the first steps in European competitions. He recalls the days of how the club has transformed into the force of nature that it is today.
You arrived in England as a middle blocker. How did you end up at Polonia and what were your beginnings at the club?
As soon as I moved to London, I was a player and was looking for a club to play for. I found out about Polonia (as it was then known), but was certain I was not good enough to play at that level, and so joined local team White Eagles to check the level of English volleyball. In 2005, when the coach was Jurek Jankowski, and while the players were predominantly Polish I made it my mission to be part of the club. For the first few seasons we finished the season in the top half of the top division, but we never won a medal. It was not until 2010/11, during the first season for Vangelis Koutouleas, and after over twenty years, that we won the title. It was my first and last success for Polonia as a player. As a result of my knee surgery, that was the end of my playing career.
You then changed roles and started working as one of the coaching staff. What was that like? What was the hardest about the change for you?
I couldn't imagine life without volleyball, and wanted to stay within the club and to add my knowledge: for that reason I became assistant coach. I later became Head Coach in 2013/14 and until 2014/15 when Vangelis Koutouleas returned once again. I then changed to assistant coach, and worked at that level until now. It was hard to accept that I was no longer a player, and had to behave differently: to have to stay calm and contain my emotions, but I soon became accustomed to this.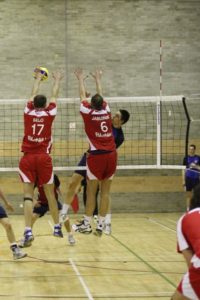 As a player, you were part of the first national title in 2010/11 after 24 years. You also have in your trophy cabinet several national titles as a coach, Cup titles and European glory. You were a witness to lots of history. How has the league changed over the years and how has the club changed?
From the start the league was amateur and stays that way. The sporting level has been varied and depended on the players taking part for the various teams. Initially my arch rivals were Malory, which was mainly made up of the best British talent, but from 2010 foreign players started showing up more and more. Foreign students started joining English universities and slowly the level improved. At that time, Polonia became a regular feature of the top of the table clashes. Foreign players soon stared joining Polonia and then sponsors started contacting the club. Players stopped having to pay to play and once the current CEO Bartek Luszcz joined the club the machine really started moving. IBB Builders Merchants joined as strategic sponsors and made the decision to compete at official international competitions and the aim to professionalise the club began. Sadly no other club has been able to follow suit, no doubt due to financial reasons, and is not moving into professional spheres of the sport. For that reason the top division has stagnated. I think, other than IBB Polonia London, there are maybe two teams in the Super 8 that are good enough to compete in Europe.
Despite the poor standard of the top English league, how do you rate the performance of IBB Polonia in the CEV Champions League?
The last few years have shown that the club has the highest goals imaginable; and despite endless obstacles, is fighting to realise its dreams. From 2016 significant steps forward have been made and is competing in Europe. I know, that the club not only "has the potential", but the ambition to improve year on year in the mission of improving its performance in the real volleyball world. I am pleased that the volleyball world knows about IBB Polonia London, because there is always something interesting and ground breaking to talk about for them.
That is true. The club is always building its reputation and has already had a number of superstars in its rosters. Many also associate the club with your name: the surname "Selep" comes to mind when people talk about the club. Do you feel like a legend?
I think I might do! I think the only club member with a longer service record is Chris Hykiel. I have often heard that the club is intertwined with me, and it might be interesting to see IBB Polonia London without Selep. When I announced my intention to leave the UK, I had so many good wishes from ex-players, fans and friends that thanked me for the years of playing and hard work; they assured me that I will be missed. It was lovely to hear these positive words and to leave a positive mark as I leave. I can't believe it, but I already miss the club.
This means it is hard to leave? What sentiments remain?
Of course yes. I am grateful for so many people that I could be part of the club for so long. I am honoured that I was trusted, first as a player, then as a coach. I am pleased I could give something to the club, to support the players and coaches with my experience and to help push towards amazing goals. I might have ended my coaching career at the club, but I will be a loyal supporter and fan. I will be watching the news and will keep my fingers crossed that the dreams come true for the club. I am certain that I will soon be seeing the England flag being represented in the group stages of the CEV Champions League. I wish the club only the best successes and results and will be talking all about IBB Polonia London in my new surroundings.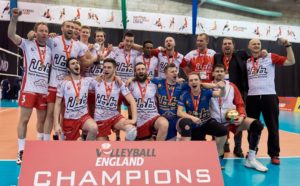 And your plans in Slovakia? Will you stay involved in the sport?
I want to and hope this will be possible. Slovak and English clubs work differently, and for this reason must assess my plans. I have a coaching examination organised in Slovakia which will allow me to be an assistant coach in the top division or head coach in other divisions or in junior sections. I see a few interesting openings for me and aim to use my coaching experience that I have built up at IBB Polonia London.
Selep, thanks to the years of sacrifice, has become a legend of the club, unified many players and coaches and gained the trust of the club directors, owners and fans alike. He will remain as a great memory for the club. IBB Polonia London thanks him for all the years of work and personal sacrifice and wish only that he develops his coaching experience and that our paths will once again cross. The entire club wish Patrik, and his family, all the best in his homeland.