Pro Volley Academy wins a junior tournament
The senior IBB Polonia London squad is still awaiting their return to court following the festive break, however the Pro Volley Academy players who are an integral part of the full squad, took part in a junior competition on 15th January 2022. They ended the first phase of the competition as winners and didn't lose a single set all day.
The Junior Grand Prix, this season, is turning out to be super popular; organised by Volleyball England the players are divided into age groups and in turn pools. The winning teams from each pool continue to the next competition.
In the under 18 event, alongside the Pro Volley Academy squad, were Wapping Wildcats, Ashcombe Dorking and Willesden Giants. The competition was a round robin format with total wins counting. The Pro Volley Academy team won the event and no other team came close to causing them any trouble all day and this secures progress to the next round. Willesden Giants took second place; the full table of results is available in this link. All teams had fun and enjoyed playing volleyball and all teams showed they had some skills to showcase and wanted to win.
The next Junior Grand Prix happens at the start of February 2022 and the opposition will become clear over the next few days. The players will continue to train and refine the skills that they displayed on Saturday.
Some of the squad od Pro Volley Academy who played this event will also appear in the first team matches this season. IBB Polonia has stated that it will be incorporating these young talents throughout the remaining games where they will gain valuable experience.
The next games for IBB Polonia London first squad will be in the coming weekend: matches will take place on 22nd and 23rd January. The Saturday match will be against local rivals Malory Eagles and on Sunday, also on their home court, against Team Sunderland. Both games will start at 4.30pm London time: more details will appear on The Club's Facebook page.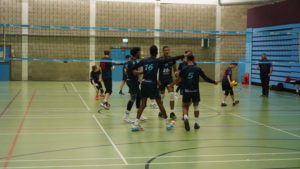 "The boys played really well all day. We didn't lose a single set and we were never at risk of doing so, and as the coach, this makes me very happy. Everyone had fun, but they were also able to maintain concentration. The players are slowly growing in confidence and gaining experience. They are attending training with senior players and taking part in the English National League. We have to keep improving; we are the reigning champions of England and this accolade brings certain responsibilities." – said Head Coach at Pro Volley Academy and IBB Polonia London, Grzegorz Niski.