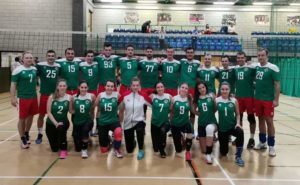 History
BG Lions London volleyball club is a social cause, tracing its roots in the parks of East London. It all started back in 2017 when a group of friends, all of whom working busy City jobs, found relief from the working week stress by playing grass volleyball over the hot summer weekends. Our passion for the sport did not grow any weaker and in the early days of 2018 we decided that the time has come to form an official volleyball club with a men's and women's team and start our journey from the second divisions of the LVA leagues.
Mission and Vision
Our Club is open to people of all backgrounds and abilities! Our mission is to provide opportunities to the hard-working professionals within the City of London to enhance their mental wellbeing via physical exercise and playing their favourite sport. Our practice sessions and home fixtures are taking place late in the evenings during the work week and on weekends and located only a convenient 5-minute walk from Shadwell station, in a well-equipped and spacious gym.
We run two competitive teams in the LVA and a recreational team in the Mammoth league. Our game day and team practice sessions take place on Saturday afternoon, while the mixed play and recreational session is on Wednesday evening.
Our venue is Bishop Challoner School, 352 Commercial Rd (ent. via Lukin St), London E1 0LB.
If you are interested in joining, please do get in touch via:
Our Website 
Our Facebook page or
Email us at info@bg-lions.com
For sponsorship and partnership opportunities, please contact sponsorship@bg-lions.com.