Trentino beat IBB Polonia 26:16 25:17 25:15
OK Vojvodina Seme Novi Sad beat IBB Polonia 25:21 21:25 23:25 18:25
(CEV Champions League, First Round)
The Italian champions playing at home proved to be too strong for IBB Polonia on Tuesday (28th September) but the following evening the English champions shocked the Serbian champions by taking the first set and giving them a fright in both sets two and three before experience earned their opposition the fourth.
Taking on the best men's team in Italy, a nation with a strong volleyball tradition and a club with huge experience in continental championships was a massive challenge for London's IBB Polonia, proudly the best men's team in England. Having played in a lesser European competition in past seasons, the club was fully aware that their opposition was world class and aimed to present themselves as strongly as possible on court. Recent training had been intense in difficult circumstances and although they have recently signed two stars in Marcus Nilsson and Anestis Dalakouras, they were delighted at their signing just before the match of Dutch national team setter, Gijs Van Selkem from Germany where he has been playing recently.
In the end, the Italians proved too experienced for Polonia and their stronger team-work proved decisive. Nevertheless, at no stage of the match did the Italians under-estimate the Londoners and the home coach Angelo Lorenzetti said after the match ended, "We began as we wanted to thanks to this clear victory. Now we must concentrate on the match against Novi Sad on Thursday. The prize is a place in the next round and we really want it."
Before that Novi Sad had to face the London team which started brilliantly and took the first set and continued to play strongly in the second although they were to go down by the same score as they had won the first. Polonia raised their game for the third and surprised the spectators and shocked the opposition both with their defence and attack as they took a lead to 18:21. However, the Serbian's coach Sinisa Gavrancic inspired his players to a thrilling recovery and they prevailed 23:25 and to maintening their form as they took the fourth set too. After the match Polonia's opposite Marcus Nilsson said, "I think it was a positive experience for this team. We have fought at our best considering that we found ourselves together only a few days ago," He had been the best scorer of the match with 22 points.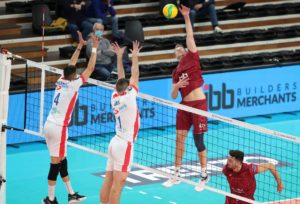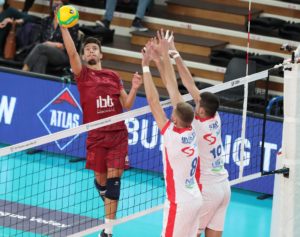 Polonia had faced world class opposition in Europe's premier club competition and shown they are capable of competing at this level and providing entertaining volleyball of a standard that will have delighted the television audience they attracted. London is proud of the players and eagerly hoping for the day when the virus restrictions allow it to see them at home.
Contributors, IBB Polonia, Douglas Barr-Hamilton
Source, European Volleyball Confederation