Lionhearts East and SQUAD top Premier tables
LVA play-offs set scene for 2023-24
Lionhearts are women's champions for the second year running although they had to play catch up after losing the first game of the season, going down in four sets to newly promoted London Bears. However, they did not lose again and are worthy title holders and Bears were
to finish fourth. The club very nearly did the double but the men's team, Alpha, ended in second spot on sets difference, beaten by SQUAD in a nail-biting competition. Both teams had lost three times since October and all eight teams deserve recognition for a most competitive league.
The standard of play was good just below them in the first divisions too. In the women's A division Waterloo Thunder continued their inexorable climb up the tables since their joining the league and nobody was able to beat them as they earned their deserved place at the top
level although five matches went to five sets illustrating the competition throughout the division in which KS Osemka eventually finished second. Competition was close in the B division too where Wimbledon Wildkats eventually earned automatic promotion, losing three times. Also with three losses but with a draw as well, Lionhearts Cats finished second. The deduction of a penalty point meant that Sideout XULU finished second to Giants in the A division of Men's 2, both teams losing just twice during the league season. In the B division, it was Bears that finished knowing they will be playing at the top level next season. Knights will be playing off to join them, all the teams in the division having enjoyed a nail-biting season in which even the bottom side won four times.
Beaten only once, Londinium took the honours in Women's Division 2A but it was very close behind them with three teams all on 32 points, Flaming Six Llamas ahead of Dynamo Daredevils and Wimbledon Flames on sets difference. In 2B, BG Lions pipped Lion Rock by
a single set by the two teams that finished equal on points as sets difference decided the title. Flaming 5 Cobras and BU Galaxy were almost as close in third and fourth places with a single win fewer than the top teams.
In Men's Division 2A Blockbusters finished top despite two losses comparted with BU Galaxy who lost only once but suffered the deduction of penalty points. Londinium finished third. Lion Rock and Phoenix looked a class above the rest in Division B finishing first and second respectively while KS Osemka 2 finished unbeaten in the C division in which there had been the tightest of competitions behind IBB Polonia and Good Times who finished second and third respectively.
The London league season finally drew to a close on Sunday (9th May) at the Mulberry Academy at Shoreditch. The day began at eleven in the morning with the Association deciding promotion to the first division.
Venue: Mulberry Academy Shoreditch
Spectators: 100
First the runners up in M2A and M2B played each other on Court One and BU Galaxy triumphed in three sets over London Phoenix, on Court 1 BU Galaxy were soon back on court to play M2C's IBB Polonia 2 and everyone enjoyed a thrilling five set match eventually won by Galaxy to claim their promotion to the first division.
Then London Phoenix played IBB Pro Volley B and Polonia won in four sets to demonstrate how close the competition had been.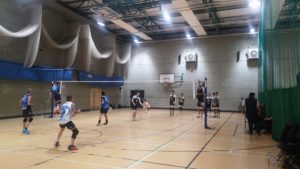 Play on Court 2 featured the teams hoping for promotion to the Women's Premier Division as A Division runners-up Lionhearts Cats failed a valiant attempt to get back into the top division losing to London Giants.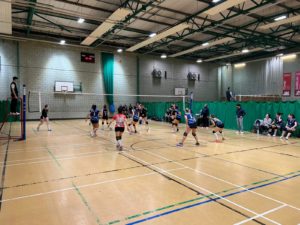 In the afternoon Giants challenged Malory Black Eagles who had finished three from bottom for their place in the Premier Division and triumphed in four sets.
Meanwhile, the men played on Court 3. In the morning Spikers Knights took on Team SideOut and the latter needed four sets to Leave Knights in the First Division next season …..
….while in the afternoon SideOut became the replacement for Onyx men in the Premier Division, winning three sets to one.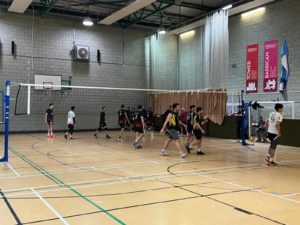 There is one interesting footnote: the teams that failed to top their table because of penalty points both achieved promotion in these play-offs. The strength of next season's competition has been decided on results and not on an administrator's decision, however correct. We are
looking forward to the autumn.
Contributor, Douglas Barr-Hamilton